Reddit
The 10 Best Storage Ottomans in 2021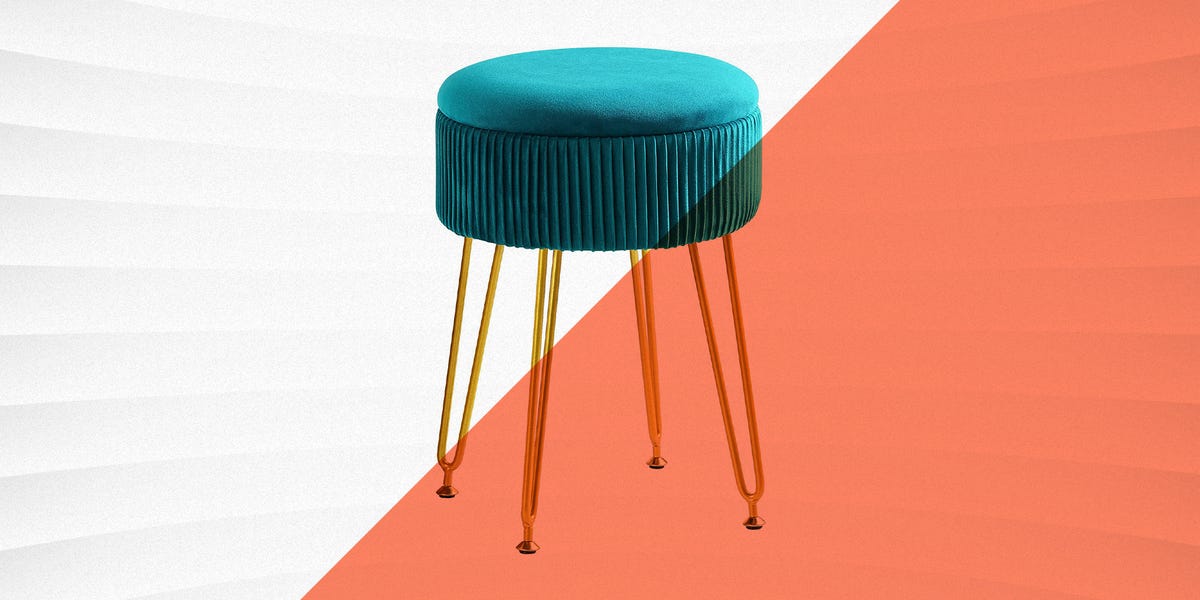 Staff, Courtesy of Lue Bona
Looking for a stylish, multipurpose piece of furniture? The storage ottoman is a great place to kick up your feet, sit or pop down a tray of goodies at parties, all while storing extra blankets, shoes, games or other gear you don't want floating around your space. Storage ottomans come in extra handy in small apartments, playrooms and family rooms—anywhere there's a space and stuff crunch happening.
What to Consider
Storage ottomans come in many styles, shapes and sizes. Keep the following in mind and we think you'll be happy with your purchase!
Size: Ottomans come as small cubes, capacious benches, rounds of all sizes and big squares. The bigger they are, the more likely they are to double as coffee tables. Smaller ottomans work as chairs or side trays in a pinch.
Style: Ottomans are going to attract a lot of attention, so think carefully about the rest of your home's design—modern, farmhouse, rustic, etc.—before buying.
Material: Do you want a tufted button design? Leather? Velvet? Something else? There's something for everyone. If your storage ottoman doubles as a coffee table, you'll want a fabric that is easier to clean in case of spills.
How We Selected
We reviewed hundreds of ottomans, keeping all of the various design and storage needs in mind. We also consulted expert reviews, and analyzed thousands of consumer reviews to find the best ottomans for every need and budget. Get ready to stow your stuff in style!
Advertisement – Continue Reading Below
1
Best Oversized Ottoman
SIMPLIHOME Dover 36-Inch Square Coffee Table
SIMPLIHOME
amazon.com
$266.30
Key Specs
Size: 36 x 36 x 18.5 inches
Material: Faux leather
This large, square ottoman features a lid that is split in half—meaning half can be up and half can be down while you dig in for your desired object. 
It's available in multiple colors, including gray, red, brown and satin, and its linen-like upholstery and tufted design will make it blend into any setting. This ottoman would look at home in a living or family room as a coffee table, or as a footstool or extra place to perch. The solid wood framed base of the ottoman is sturdy. 
Reviewers say this ottoman is "simple to assemble," and is "extra sturdy with ample storage."
2
Classic Ottoman
FIRST HILL FHW Fifth Avenue Tan Storage Ottoman
FIRST HILL FHW
amazon.com
$99.00
Key Specs
Size: 24 x 18 x 18 inches
Material: Linen
This beige linen rectangular ottoman features a subtle button tufted design on top, extra padded top hinges, nail head trim around the bottom edge and solid-wood round bun feet for stability. The ottoman works as a stool or extra seat, and looks more expensive than it is. 
Reviewers praised the ottoman's style and functionality. One wrote that they "love this elegant ottoman," while another notes that it's "just the right size to put in front of your favorite chair or use anywhere you need an extra seat."
3
Prettiest
Velvet Ottoman Foot Rest
LUE BONA
amazon.com
$52.99
Key Specs
Size: 13 x 13 x 16.1 inches
Material: Polyester
This stylish, leggy ottoman does triple duty as a stool, footrest and storage unit. Because the top is covered in a wood round, it would even work as a side table. The soft, pleated fabric cover and metal footrest screams mid-century, and would look great in living rooms, bedrooms, reading rooms and more. 
Reviewers swoon over the style, and say it's "sturdy, easy to assemble" and offers "great value for the money." 
4
Sleek & Modern
Harmati Velvet Storage Bench
harmati
amazon.com
$169.99
Key Specs
Size:  16.5 x 44.1 x 19.3 inches
Material: Sherpa 
This ottoman boasts serious storage space, and its modern design makes it a great fit for living rooms, bedrooms and family spaces. The clean, curved bench is anchored by light wooden legs, and will serve as an excellent seat or long footrest for two-three tired people. The assembly is easy, and the legs and strong frame make it very sturdy. 
Reviewers say they are "blown away with how nice it is for the price. The velvet is soft and plush and the beautiful gray goes with any décor."
5
Best Micro Ottoman
NISUNS Linen Folding Storage Cube
Key Specs
Size: 12 x 12 x 12 inches
Material: Linen
This small ottoman can hold up to 220 pounds, and is frequently used as a footrest, extra seat and side table, as well as a storage space. Made of engineered wood and covered in fabric, the stool comes in several colors, including red, blue, peach and gray. The lid is completely removable, and the entire ottoman folds up and can be stored when not in use. 
Reviewers love it as a footrest and small storage unit, noting that the material is "very nice," but some also warn it's quite small.
6
Best Large Round
HomePop Large Button Tufted Round
HomePop
amazon.com
$145.96
Key Specs
Size: 25 x 25 x 15 inches
Material: Polyester
This large, cherry-red round ottoman could anchor a room with its style and looks, while also providing a great storage, and also working as a coffee table and footrest. The tufted button top adds a touch of elegance, and if red isn't your color, it also comes in several others, including olive green, gray, and cream. The squat, round wooden legs support the unit, which will in turn hold up to 250 pounds. The easy lift-off lid provides ample storage. 
Reviewers say the quality exceeded their expectations for the price. "Just what I was looking for! The weave is softer than I thought it would be as well."
7
Best Leather Bench
Christopher Knight Storage Ottoman
Great Deal Furniture
amazon.com
$170.99
Key Specs
Size: 17.5 x 51.25 x 16.25 inches
Material: Leather
This easy-to-assemble leather ottoman storage unit would look great in an entryway, at the end of the bed or in a living room. This ottoman compliments most home styles. Assembly is required, but it is straightforward, and the directions are easy to follow. 
Reviewers loved the neat seams of this bench, the attention to quality and detail, and say overall it is a "beautiful storage bench, well made," but note that the "interior is a bit fragile."
8
Best Open Storage
Bowery Hill Gray Linen Cocktail
BOWERY HILL
amazon.com
$344.79
Key Specs
Size: 37.8 x 37.8 x 20.1 inches
Material: Linen
This linen-covered ottoman is a statement piece, with beautifully carved wooden legs and an open storage shelving space; it would look best in a living or family room. The gray, button-tufted design makes this square ottoman a fit in any traditional or farmhouse chic setting. 
This is the perfect ottoman/coffee table for a family who wants to stack books, games, magazines and other objects they want to be able to see, grab and use.
9
Best Budget Ottoman
Ornavo Home Foldable Tufted Linen Storage Ottoman
Ornavo Home
amazon.com
$66.99
Key Specs
Size: 15 x 45 x 15 inches
Material: Linen
This ottoman comes in various shades of gray and blue, and has earned an average of 4.7 stars from more than 2,200 reviewers for its stellar quality and incredibly low price. The bench feels luxurious and smooth but withstands serious use and abuse, making it a great option for family and play rooms. The tufted design makes it double as a comfy and stylish seat.
Reviewers rave that its lightweight, folding design allows them to store the piece if it's not needed. Others love how "roomy and sturdy" it is, perfect for the "foot of the bed."
10
Best Set
Otto & Ben Storage Ottomans
Otto & Ben
amazon.com
$37.62
Key Specs
Size: 15 x 15 x 15 inches
Material: Faux leather
These two ottomans are sturdy, hearty and extremely stable: perfect for family life. The ottomans are designed to stand up to enthusiastic use, can hold up to 250 pounds in weight each, all while saving space. This duo is also collapsible, which is a bonus. Reviewers praise its "perfect size and stability," and say it actually holds up to 300 pounds.
This content is created and maintained by a third party, and imported onto this page to help users provide their email addresses. You may be able to find more information about this and similar content at piano.io
Advertisement – Continue Reading Below