Facebook
Reddit: Millennials Saying Middle-Aged Things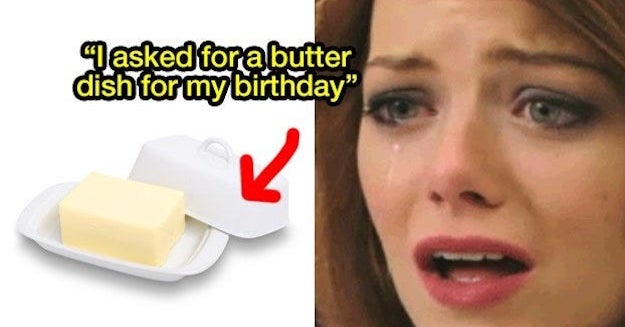 Orignally published on
2021-11-28 18:46:03

by www.buzzfeed.com

"I can't stay long, my cat has been alone all day."
But there were even MORE comments on that post that made me feel personally victimized, so here they are, in all their middle-aged glory:
1.
"I have a good hip…and a bad hip."
2.
"A few days ago I walked into a store and walked right out again because the music was way too loud."
4.
"I'm now at the age where if I'm gifted posh biscuits I keep the tins, because they're 'good tins'."
5.
"I'm only 22 and nothing gets me more excited than getting a new kitchen appliance. I got a food processor for Christmas last year and it was my favorite present."
7.
"Just today I put some tissues in my pocket before going outside to weed the garden…just in case my nose started running 🤦‍♀️"
10.
"I can't stay long, my cat has been alone all day."
11.
"I like to plan my errands starting with the farthest place so everything else is on the way home."
13.
"I am looking forward to going to bed."
16.
"When my wife asked if there was anything she need to pick up at the store, and I responded with, 'I think we're out of asparagus.' Not sure what foul demon possessed me to say those words."
18.
"Just yesterday I complimented the barista on the 'funky tunes' that he was playing. Now, I have to find a new coffee shop."
19.
"I need to pop into Joann Fabrics and pick up some yarn."
22.
"I asked for a butter dish for my birthday."
23.
"'$1.99?!? I remember this used to be 99 cents!' – me, in shock, talking about a bag of Funyuns."
25.
"I slapped a moving box that I had strapped onto the back of my car and said 'this isn't going anywhere.'"
26.
"I was standing on my porch and drinking coffee when a car drove by and I said 'they're going way too fast.'"
27.
"'This is why I can't have nice things…' I say as I pick up the plastic cup of pens my cat knocked over."
Did we miss any? Comment them down below!
Orignally published on
2021-11-28 18:46:03

by www.buzzfeed.com