Design
If You Have a Picture Ledge in Your Living Room, Consider Hanging It Here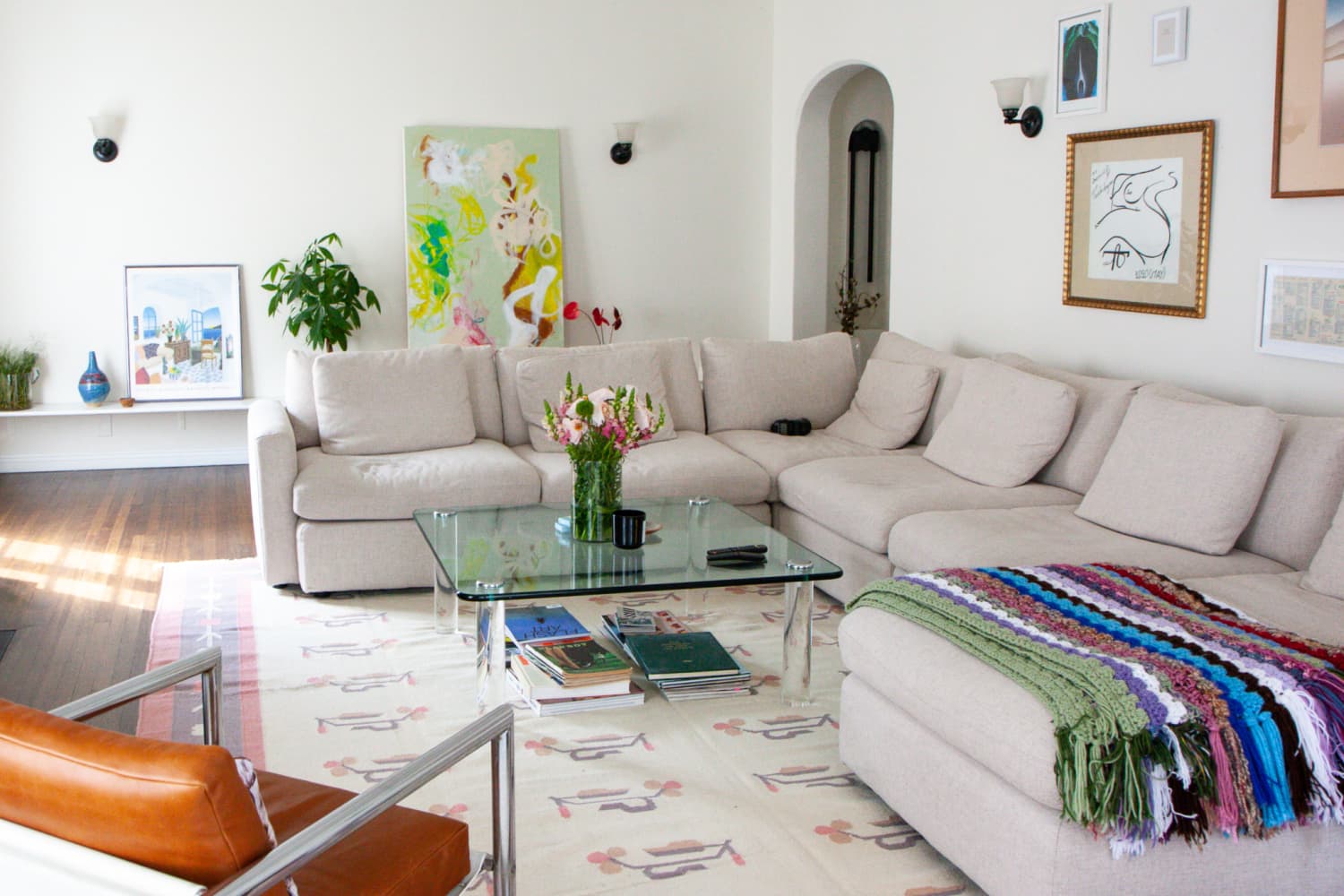 We independently select these products—if you buy from one of our links, we may earn a commission.
Floating shelves and photo ledges are great ways to add decor in your home without taking up any floor space. At first glance, these perches may seem like small-space solutions, but they really can work for anyone. A general rule of thumb for mounting floating shelves is to either place them at eye level, or about four to five feet from the floor.
But in a recent house tour, Sarah Campbell and her fiancé Nick showed how mounting their photo ledge away from eye level on a large, blank wall in their cool apartment in Los Angeles, California, totally works. On the whole, the space is bright, airy, and really well-designed. "I'm not an interior designer but work as a graphic designer," Campbell says. She considers designing their home a personal project that she's super proud of and put a lot of time and effort into every detail. "This project has been my creative outlet during quarantine and is a true expression of all the things I love," she adds.
The far wall of their living room was large, white, and the perfect blank canvas for doing something different. For a while, Campbell wanted to find a single, oversized piece of art to fill the space, but the search was harder (and more expensive!) than she expected. "So instead, I thought of creating a space that could be treated as an art gallery with rotating smaller pieces," Campbell says. That's where the floating shelf came in, and it's mounted very low — hovering about four to five inches (not feet!) above the ground.
Campbell's low shelf inspiration actually came from a photo she saw on Apartment Therapy. "I started to look for 16-foot shelves that would span the entire length of the wall," she says. "I realized 16-foot floating shelves are hard to come by unless you have one custom-built." So she and her fiancé custom-built the ledge themselves using two eight-foot white boards from The Home Depot and six corner brackets. To make the brackets blend into the wall, she painted them all the same color as the wall for a more seamless look. The entire project actually ended up costing less than $100.
"Since then we've had fun filling it with smaller pieces and a painting," says Campbell. The best part is the couple can switch out pieces whenever they feel like it, and when you walk into their space, you definitely notice this unique feature.