Facebook
Chip Foose's Design Sketch Inspired This Radical Ford Bronco Hot Rod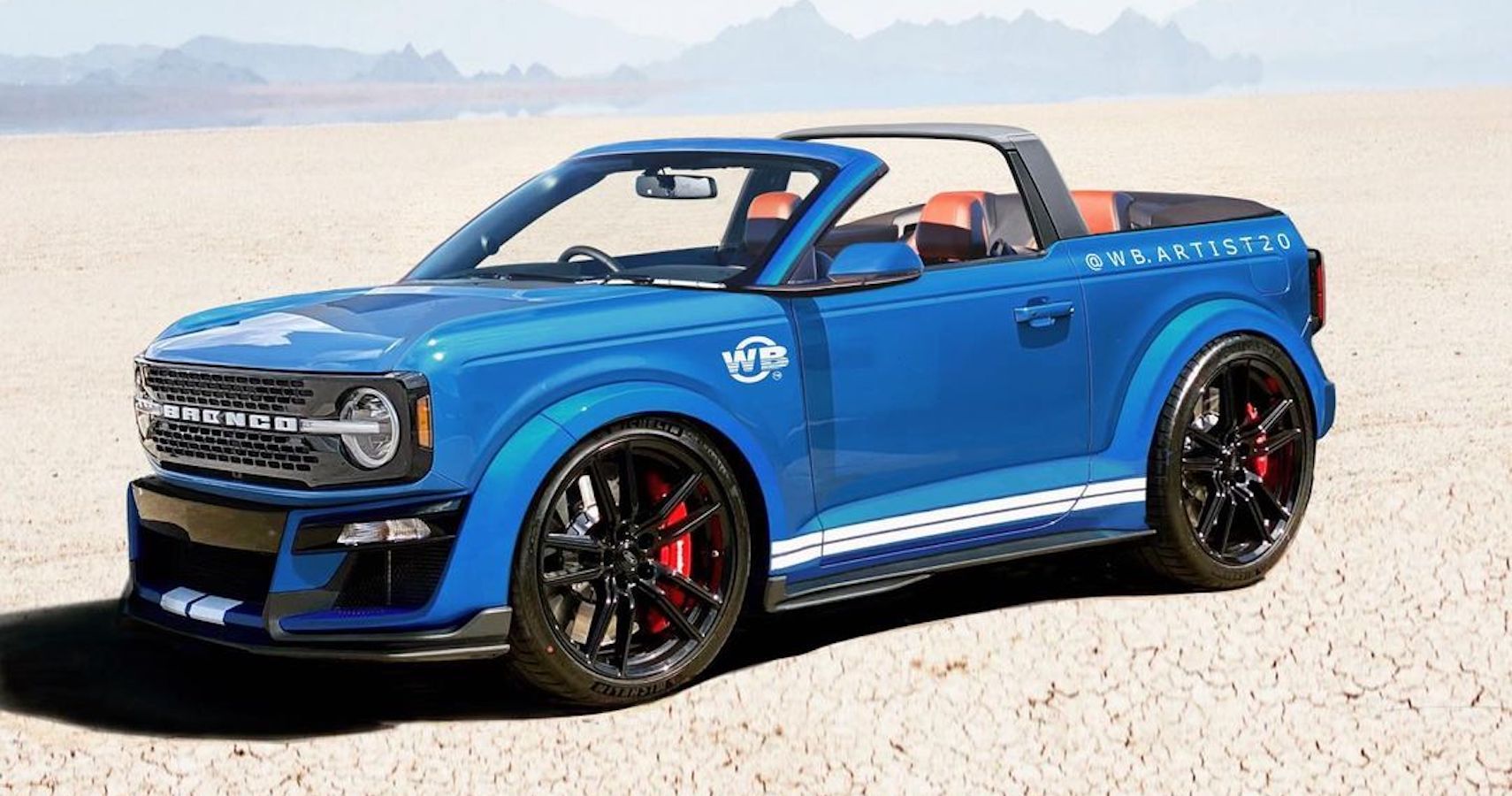 Orignally published on
2021-09-28 22:15:11

by www.hotcars.com

An automotive artist on Instagram has created a new Bronco convertible concept, drawing inspiration from an earlier Chris Foose concept. Just yesterday, Instagram user @wb.artist20 completely transformed the Ford Bronco, changing everything from its basic chassis to its proportions, channeling the classic muscle car aesthetic into his rendition of the Ford Bronco. Inspired by Chip Foose's rendering of the Bronco, this Ford SUV carries over the basic chassis but changes just about everything else.

FOLLOW HERE: HotCars Official On Twitter
Massive Changes Made To A Modern Classic
While there have been a variety of different iterations of the Ford Bronco, one Instagram user has rendered a completely new concept for the trail-blazing 4WD.
The biggest change made in this render is dropping the chassis of the Bronco right down to ground level, substituting large wheels and slim sport tires instead of the usual bulky mud tires found on a typical 4WD. The Bronco has received a complete facelift, integrating an imposing front body kit found on Shelby Mustangs. The Shelby motif continues through the color scheme with the Candy Blue paint and dual white stripes on the body kit and side panels of the car. User @bradygarb has even dubbed it "Shelby Bronco."
The extended wheel arches further emphasize the muscle car feel of this Bronco, the wide-body transformation helping the car appear shorter and bulkier. The reduced angle and size of the windshield contrast the ostensible tallness of the Bronco with this newest redesign.
Furthermore, the artist has left out rear and side windows, which alludes to the cheerful stereotype of open-road cruising in a convertible. The artist has stated: "As always I'm about making concepts you'd probably never see in real life and this prob qualifies!"
RELATED: Beautiful Or Blasphemous? Classic Ford Bronco Gets Racer-Inspired Rendering
How Is It Different From Chip Foose's Design?
Even though the Chip Foose design that inspired this render carries some similarities to this newest iteration, there are a variety of distinctly significant differences between the two.
Apart from the clear difference in medium and color scheme, the new hot-rodded Bronco has a slighter longer storage compartment, almost perfectly equal to the front and middle section of the car. The general proportion is highly similar, but the aggressive, bulky exterior of muscle cars is more present in the newest rendition. Furthermore, @wb.artist20 draws the wheels and tires to scale, whereas, the Foose version featured a looser stylization of the wheels and tires.
The comment section seems to approve of the newest reimagination with the majority of comments supporting this design, with some even suggesting that this chassis style might appear in the commercial market in the near future.
Sources: Instagram
10 Sickest Cars Built By Chip Foose
When it comes to customizing classic cars, Chip Foose is on a whole different level than most people.
Read Next
About The Author
Orignally published on
2021-09-28 22:15:11

by www.hotcars.com